The patient is placed on the table and general anesthetics are administered.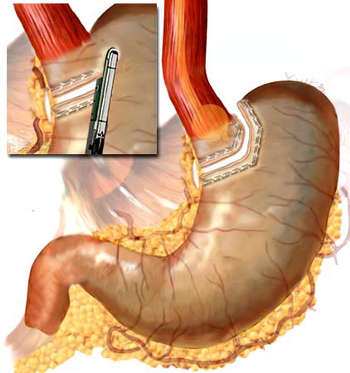 The stomach is sized to a small pouch by first identifying the esophago-gastric junction and then passing a Baker tube filled with 15 cc of saline solution. The Endo GIA stapler (US Surgical), 60 mm long with 4.8 mm staples is then fired three times as shown in this figure.
---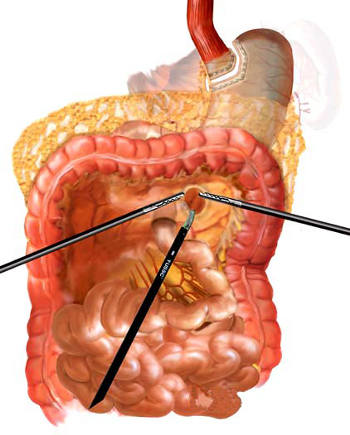 A retrogastric-retrocolic tunnel is performed in the mesocolon anterior and lateral to the ligament of Treitz. This "window" will facilitate the passage of the Roux-limb.
---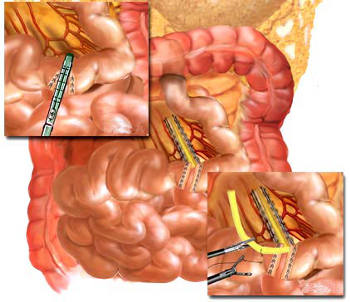 In order to create the Roux-limb, the jejunum is divided 15 cm beyond the ligament of Treitz by using an Endo GIA II stapler (US Surgical), 45 mm long with 3.5 mm staples. In addition the mesentery is also divided with a Endo GIA II stapler, but this time using the vascular load (45 mm length, 2.0 mm staples). This maneuver will facilitate mobilization of the small intestine through the mesocolon. A rubber drain is sutured to the jejunum to help with the pulling.
---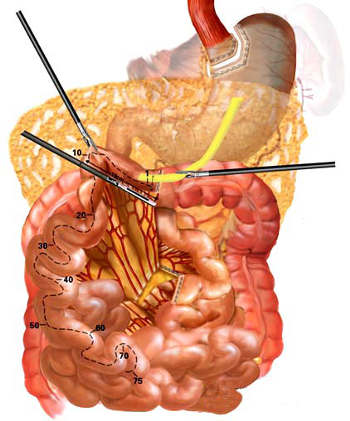 The Roux-limb is measured according to the patient BMI (Body Mass Index) and can range from 75 to 200 cm in length. Notice that the laparoscopic grasper is used as a ruler.
---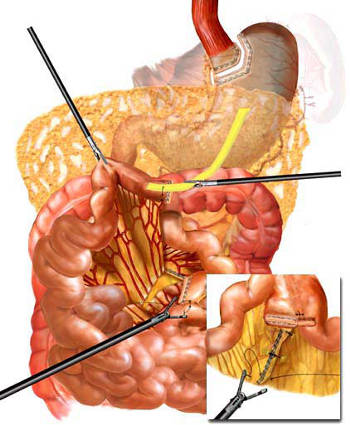 An end-to-side anastomosis between the proximal jejunum and the roux limb is created by firing two Endo GIA II staplers. The enterotomy is closed using another load of staples. The mesentery is also closed to prevent bowel entrapment (internal hernias).
---
Close up view of the entero-enterostomy.
---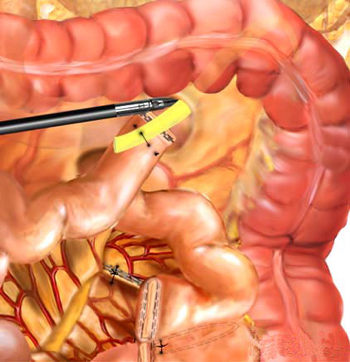 The Roux-limb is now advanced trough the mesocolic window (retrocolic and retrogastric) near the transected stomach.
---
Using the rubber drain, the Roux-limb is pulled to a retrogastric position.
---
Following an enterotomy an anastomosis between the gastric pouch and the Roux-limb is created by firing a Endo GIA II.
---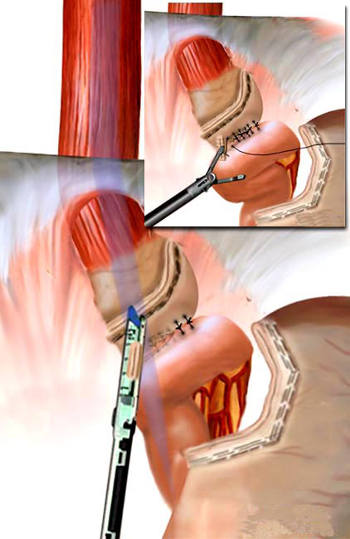 The enterotomy is stapled shut with another load of Endo GIA II. The anastomosis is secured by placing an extra row of stitches. The gastrojejunostomy and the enterotomy site are tested for leakage by applying insufflation through an nasogastric tube (or endoscope) and submerging the area in irrigation solution.