I was born in my village, Khiwandi in Rajasthan and started my education in Mumbai. My father always had an ambition that I should become a Doctor and serve the people.
I have completed my surgical training in university-recognized posts in hospitals in Mumbai and completed my DNB (General Surgery) from National Board of Examination, New Delhi. I received training in General Surgery, including various specialties like Orthopedics, Burns, Plastic Surgery, Pediatric Surgery and Urology and Oncosurgery. This period was vital to my acquisition of fundamental surgical principles and techniques. During this period I performed most of the minor as well as major operations, elective as well as emergency operations.
After gaining adequate experience in General Surgery and post-graduate qualification, I developed keen interest in Laparoscopic Surgery. During my Clinical Fellowship in Minimal Access ( Laparoscopic ) Surgery at Sir Gangaram Hospital, New Delhi India , I gained adequate exposure in various cases such as Cholecystectomy, Hepatobiliary Surgery, Endohernia surgery, Appendectomy, Solid organ surgery including liver/spleen/adrenals/kidney/pancreas, Endoscopic neck surgery including parathyroid and thyroid, Colorectal surgery, Thoracoscopic surgery, Axilloscopy and other advanced laparoscopic surgical maneuvers. Later I also received training in Upper G.I. endoscopy.
I was fortunate to be awarded the highly prestigious, Dr. P.N. Berry Educational Trust Scholarship, which is administered by the Education Department, High Commission of India, U.K. For training in United Kingdom. I joined the most renowned department of Leeds Institute for Minimally Invasive Therapy for Advanced Laparoscopic Surgery and Pancreatic Surgery Fellowship Training, at United Leeds Teaching Hospitals, NHS trust, under Professor M J McMahon from March 2002 – May 2003. I also procured the Diploma in Advanced Laparoscopic Surgery from European Institute of Tele Surgery, Strasbourg, France.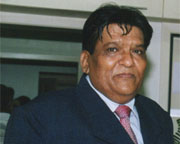 According to him "money spent on education is invested and not wasted."
He migrated from a small village called Khiwandi in Rajasthan to Mumbai in 1960's. After completing his B.Com, he started his career in 1967 with a salary of Rs. 250/= per month and he started his own business of Tiles, Sanitary ware and Bath fittings in 1987, and over a very short period earned a good rapport in his own industry. He started doing social work in the 1980 through Khiwandi Social Group of which he was the founder member and secretary for 20 years. He and the entire Gandhi family ( Gandhi Memorial Trust) opened a charitable hospital in his village in Rajasthan called Khiwandi Social Group Charitable Hospital, which is a 15 bedded primary health care centre catering to surrounding 10 villages having a population of 50,000. Per day OPD attendance at the hospital is 50-60patients and all medicines are supplied free to the patient.
He is a man of many personalities – social worker, religious, successful businessmen, and above all a man with a big heart – an inspiration for all.